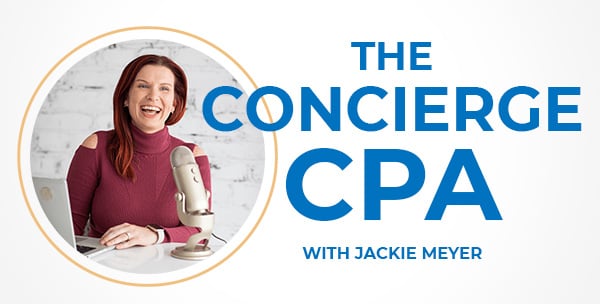 In Episode 5 of The Concierge CPA, Jackie Meyer interviews Corrin Woodard. In this episode, the two discuss:
Anne Arundel Accounting and Taxes Inc.
Simulated Tax Return Exercise Course
The difficulties of hiring new employees and the life lessons Corrin learned from it
Strategies to bring value to customers
Corrin's missions
Meet Corrin Woodard
Corrin Woodard is the Managing Director of Anne Arundel Accounting and Taxes Inc. in Severna Park, Maryland. She is an experienced CPA who is proficient in tax preparation, bookkeeping, financial reporting, business and risk management, and business planning.
Corrin began her journey 15 years ago watching her father build their accounting firm from scratch. She shares how she started as a bookkeeper and the many opportunities that have opened up for her over the years before she joined her father's firm in 2021. She shares her passion for tax planning as well as the many past and present challenges she faces. Corrin also acknowledges how difficult it has been for her to hire and retain employees. However, it paved the way for her to start coaching sessions with people who want to learn bookkeeping and tax preparation while leading a rewarding career.
Anne Arundel Accounting and Taxes, or AAATAX, is a full-service licensed medical accounting firm. All of their CPAs hold valid MD State CPA certificates. They have been serving the accounting needs of Severna Park, MD, and surrounding areas for years and offer a wide range of services for business owners, executives, and independent professionals.
Corrin's main mission is to change the way people feel about taxes. She wants to find the biggest ROI in taxes not only for taxpayers but tax practitioners as well.
Corrin's Bookkeeping Training
Corrin was struggling to hire people for her firm. She had hundreds of clients and, for the most part, it was just her, her father, and some clerks handling the firm. She wanted to hire her first full-time person, but she found the process impossible.
Having experience as a bookkeeper in the past, Corrin figured: why not train and teach courses for bookkeepers? Specifically, she wanted to teach her students how to prepare taxes for clients. The goal of this training for Corrin is to hopefully get some students to become apprentices and stay with her firm full-time.
One of her courses offers a Simulated Tax Return Exercise Course. In this scenario, the student has to sit with Corrin--who is pretending to be a client--and present the tax returns. Corrin is also assisting her students with understanding their limits and when to know when to ask for help from other people.
Asking for Help
The number one lesson Corrin is still learning is when to ask for help. For Corrin, it's an extra challenge because, in her firm, it had been her father doing most of the work for the last 30 years. Her father doesn't understand Corrin when she says she needs extra help. Because of this disconnection, Corrin has a more difficult time asking for help.
"I am one human being trying to prepare tax returns and marketing and onboarding and bookkeeping and training," Corrin said to Jackie. "Outsource things when you can and ask for help."
Being Vulnerable
Corrin is always training the next person up for her role. She is a strong advocator of coaching rather than giving someone what to do word-by-word. Corrin finds it important for her students to come up with their own ideas and make decisions on their own. Through this process, Corrin learned to be vulnerable.
Corrin remembers working in previous firms where she didn't think she could be as calm and collected as other workers. She wondered, "How do these people have it all together?" The answer is vulnerability. You can't always be calm. At times, you will struggle. How you get back from the struggling situations and move on is really the key.
Jackie recalled a moment when she found herself in a situation where she was bogging down her employees. By apologizing to them and saying she was in the wrong, she showed vulnerability to her employees.
Corrin learned she didn't have to be cool and collected. Vulnerability helped her realize her emotions in the workplace were valid--how she took care of them was what strengthened her practices.
Value Pricing and Clients
Jackie asked Corrin, "How do you get out of that rat race of compliance and get more into providing more value to every single client?" Then, Jackie added that, at the end of the day, you might have to let go of people. Perhaps they're not the best fit for your firm or not bringing in the best ROI.
Corrin answered that, in the end, when you let someone go, you're doing what's best for them and what's best for you. By letting go of the clients that don't match well with your firm, you can bring that ROI to the clients you know you can give more attention to. Through this process, you'll be able to grow.
As she climbs toward her own personal growth, Corrin loves the concept of value pricing in her firm. Corrin likes tax planning, but she doesn't have the capacity to do as much as she wants. To solve this dilemma, she created some premium pricing resources for her clients. The premium fee should not scare people away. Instead, the premium fee should allow you to dedicate extra time (whether that's tax planning, prep, etc.) and give the clients more attention. The premium fee should include how much you're willing to do for your clients--that way, they feel like they're getting the value they deserve.
You should always follow up with your client(s). Corrin says this isn't difficult, and it relieves stress from the client(s). In her tax planning program, you sign up to get your tax plan and talk about how to take the next steps in implementing your plan. Then, the program meets with clients quarterly and connects them to whatever resources they may need. The program isn't doing the work for the client(s), but they are assisting them. Corrin does whatever she can to help her clients to keep pushing and growing.
To dive deeper into value pricing concepts, check out this blog post on increasing prices via demonstrating ROI at TaxPlanIQ.
Final Thoughts
Corrin says that, in the CPA community, CPAs don't have to compete with each other. Instead, CPAs can help each other learn new skills and have conversations about daily work life.
Corrin's mission is to use her superpowers to help other people in the best way she can. Right now, she's using that superpower by mentoring and teaching people. She's helping bookkeepers learn tax practices. She wants to assist all communities and give them the value that will inevitably help them grow.
Listen to Episode 5 of The Concierge CPA Podcast today! If you liked what you heard and read, subscribe and/or share this podcast with a friend.
Additional Resources