The Journey to Tax Accounting Services with Platinum Bookkeeper's Tania Santos
July 20, 2023 •Concierge CPA Marketing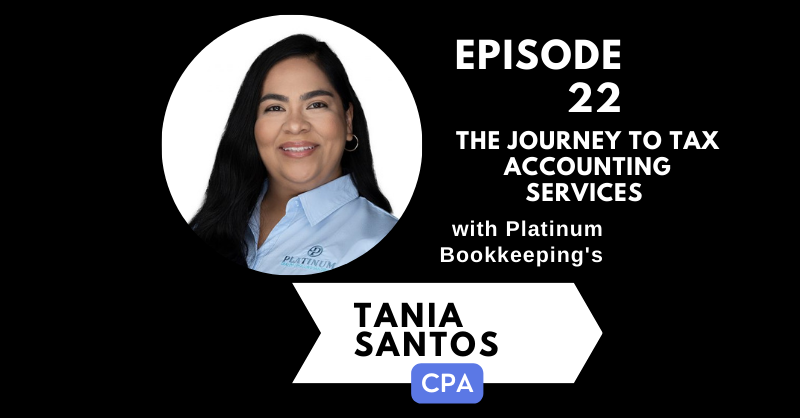 The transition from working in the business to working on the business is one that many firm leaders aspire to. Meet Tania Santos, A CPA with 16 years of experience in California's Central Valley, and a passion for learning. Tania's story begins with her immigration to the United States at the age of 14, not knowing a word of English. Through perseverance and a love for learning, she not only mastered the language but found her calling in taxes. Tania emphasized that the world of taxation is ever-evolving, requiring continuous learning, which fuels her passion for the subject. Her journey began 16 years ago when she started her firm while juggling the responsibilities of a young family.
In the early days, Tania enjoyed the flexibility that came with running her own business. However, as her client base grew and tax deadlines loomed, she discovered the immense challenges of balancing client demands and personal well-being. The influx of clients and increased responsibilities led to a decrease in personal income and a mounting feeling of exhaustion. Tania realized that a change was necessary to regain control and provide better value to her clients.
A Transformation Begins:
Tania's desire to help small business owners and her quest for freedom led her down the path of tax advisory. Over the last two to three years, she embarked on a journey of transformation, seeking ways to shift her focus from tax preparation to advisory services. A pivotal moment occurred when Tania attended a camp for educators and trainers in the industry, where she connected with like-minded individuals who propelled her towards this new world of tax advisory.
As Tania embraced her role as an advisor, she began building a team to support her vision. Currently, she has eight teammates in the United States and two teams in Mexico, focused on bookkeeping tasks. With a lead bookkeeper overseeing operations in Mexico and a team managing individual tax returns and administrative tasks, Tania is now able to spend more time on marketing, development, and client advisory.
Transitioning clients from tax preparation to advisory services can seem daunting. It requires open communication and client preparation. Tania took the proactive approach of informing her clients in advance that appointments would be conducted by other members of her team. This early communication helped set expectations and minimize surprises. While some clients were initially resistant to change, Tania's commitment to the improvement of her firm ultimately guided her decisions. Although a few clients chose to seek other tax services, Tania remains focused on finding the right fit for her transformed business.
Tania noted, however, that shifting from tax preparation to tax advisory services often involves overcoming fears and concerns. She shared her apprehensions about informing clients of the new services, worrying that clients might question why they hadn't received such assistance before. However, she quickly discovered that most clients are receptive to the idea and excited about the prospect of receiving additional value and expertise.
Tania stressed that one key aspect of transitioning to tax advisory services is effectively educating clients about the benefits they can expect. Tania discussed the importance of leading with tax planning and taking the initiative to identify potential tax savings opportunities for clients. By approaching clients with specific ROI-focused proposals, tax advisors can emphasize the value of the new advisory services and generate client enthusiasm.
Tania reflected on a particular client experience where she identified significant tax savings after completing a thorough review of the client's prior year return. Despite undercharging for her services initially, she learned from that experience and now views it as a valuable lesson. The discovery of $12,000 in potential tax savings showcases the tangible benefits that tax advisory services can offer to clients.
Strategies for Success:
While clients may initially focus on the cost of services, Tania highlights the importance of conveying the net return on investment (ROI) to clients. By demonstrating the overall financial benefit of the engagement, including substantial tax savings, accountants can help clients appreciate the value received, even if the initial cost seems higher. A recommended ROI of 200-300% helps guide pricing decisions and emphasizes the long-term benefits for clients.
Tania also stresses how education plays a crucial role in the accounting profession, as accountants are not only responsible for providing financial guidance to their clients but also for fostering a learning culture within their own teams. Recognizing this, Tania emphasized the importance of honing her skills as an educator and leader. She expressed the belief that every member of a team should embody leadership qualities, contributing to the overall growth and success of the organization. Finding groups or networks who foster these skills can be a game-changer. And Tania found that in Appy Camp.
Tania first heard about Appy Camp through an invitation from a friend who is an influential figure in the industry. Initially hesitant due to the need to travel, she decided to seize the opportunity and embark on a journey to Virginia. Little did she know that this decision would lead to a remarkable experience in a beautiful place. Appy Camp proved to be an event tailored for educators, but Tania soon realized that, as an accountant and business owner, she was already an educator herself.
Appy Camp encourages participants to embrace their roles as educators and to empower themselves and others through knowledge. Beyond the valuable insights on education and leadership, Appy Camp left a lasting impression through its practical approach to achieving dreams and making them a reality. Attendees were inspired to take action, with the camp providing guidance on how to transform aspirations into achievable goals. The connections made at the event were also highly meaningful, with like-minded professionals coming together to share their experiences and passions.
Tania also vividly recalls her search for a mentor. She was looking for a tax planning expert, eventually finding a kindred spirit who shared her enthusiasm. Such encounters demonstrate the power of networking and the potential for collaboration and growth within the accounting community, and Tania urges others to embrace mentorship and coaching as an invaluable asset on the road to success.
From Agriculture to Construction: A Shift Driven by Economics
Tania initially specialized in agricultural accounting, serving small-scale farmers. However, due to financial constraints faced by her clients, she had to seek new opportunities. The construction industry emerged as a promising avenue, as construction professionals had better financial capabilities to afford accounting services. Moreover, the simplicity of construction accounting compared to other sectors, such as restaurants, appealed to her.
But one aspect that sets Tania apart is her dedication to educating clients about their tax returns and helping them comprehend the numbers involved. During the interview, Tania expressed her commitment to spending quality time with clients, going through every line item in detail, and explaining the rationale behind each number. By fostering transparency and knowledge sharing, she empowers clients to understand their tax situation and collaboratively identify ways to reduce self-employment tax burdens.
The Role of the Latino Community in the Tax World
Being an immigrant from Mexico, Tania has a strong connection to the Latino community. She acknowledges the significant presence of Latinos in the tax industry and highlighted events like the Latino Tax Fest in Las Vegas as crucial networking opportunities. She mentioned speaking engagements at conferences like the Hispanic Tax Alliance, where they aim to bridge the knowledge gap in tax planning within the Hispanic community.
Tania pointed out the historical lack of tax planning awareness and financial exploitation within the Hispanic community, often due to language barriers and a lack of understanding. She acknowledges the need to build trust and provide genuine education to combat these issues. By offering real, relevant education, she hopes to empower Hispanic business owners and taxpayers, ensuring they receive fair and trustworthy financial guidance.
With the projection that Latinos will become the largest demographic in the country by 2050, Tania emphasized the importance of celebrating diversity and nurturing a community that can thrive economically and culturally. Her personal experiences in Mexico, including witnessing the extended celebrations during times of remembrance, further emphasized the richness and beauty of Latino culture.
In addition, Tania's role as a CFO and a mother of three daughters gives her a unique perspective on work-life balance. She expressed her worries about her childrens' language skills, as they sometimes struggle to speak Spanish. Tania humorously acknowledged that a mere vacation in Mexico might magically resolve this issue. However, she emphasized the significance of her children connecting with their culture and she encouraged them to embrace her native language.
The Value of Coaching and Mentorship:
Tania firmly believes in continuous self-improvement and the importance of seeking guidance from mentors or coaches. She advised members of the accounting community to actively work on themselves and find a coach or business mentor within their own field. Tania spoke highly of her mentor, Carmen Manrique, who has provided invaluable wisdom and support throughout her journey. She emphasized the transformative power of working closely with someone who understands both accounting and business.
During the interview, Tania shared an interesting conversation she had with a nurse from Mexico. The nurse mentioned a unique tradition in Mexico where people go to the beach to symbolically let go of their worries by giving them to the water. Although Tania couldn't find any information about it online, she tried it herself during her beach trip and found it to be a meaningful experience. Tania highlighted the beauty of cultural traditions and the therapeutic effect of surrounding oneself with nature and beauty, suggesting that similar practices could be adapted to different environments.
Recommended Resources:
In the spirit of lifelong learning, Tania recommended the book "Limitless" by Jim Kwik. This book offers valuable insights into improving reading skills, particularly by overcoming the habit of subvocalization, where our internal voice limits our reading speed. By embracing the idea that letters are symbols and focusing on using our eyes to process information, we can enhance our reading capabilities. As a busy professional and parent, Tania finds audiobooks to be a convenient way to consume knowledge.
Tania Santos's journey from tax preparation to tax advisory showcases the power of embracing change and continually seeking personal and professional growth. Her experience highlights the importance of client preparation, setting boundaries, and having the courage to make necessary changes for the betterment of both the business and its clients. Tania's transformation serves as an inspiration for accountants and tax professionals who aspire to evolve and provide exceptional advisory services in an ever-changing industry.
If you would like to get in touch with Tania, you can find her on Facebook: Tania Santos and Platinum Tax Payroll and Bookkeeping
Or, join the Accounting Influencer Facebook group, where she participates: Group
Tania's website is: https://platinumbookkeeper.com/
We want to thank Tania for taking the time to be a guest on our podcast! We believe that every person has a unique message that can positively impact the world. If you are a successful accounting firm, owner or influencer who would like to be on this program, please visit jackiemeyercpa.com to apply. Please share this on social media and rate us so we can continue our good work. Join our Facebook group called Accounting Firm Influencers, or connect with Jackie on most platforms under Jackie Meyer, CPA. Thanks for being accountable to transforming our industry today.